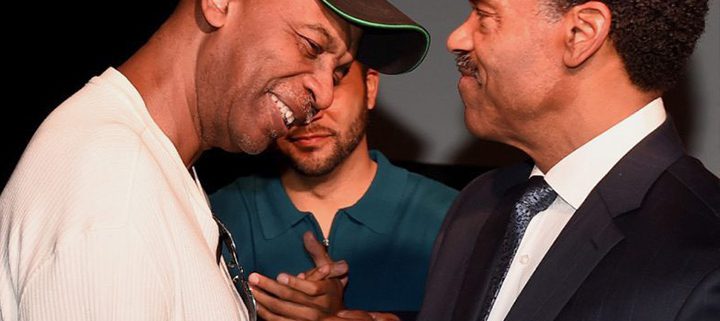 ONLINE EVENT
A bi-coastal conversation with Black Terror playwright Richard Wesley, and film Director Richard Lawson.
Longtime creative collaborators, Richard Lawson and Richard Wesley reminisce on the Black Arts Movement, Black Power Movement and the celebration of the 50th Anniversary of the Drama Desk award winning play Black Terror, set to premier on screen in Fall 2022. Actor, director and master teacher Richard Lawson and dramatist, writer and Associate Professor of Dramatic Writing at NYU Tisch School of the Arts Richard Wesley, gather to talk shop and share their latest collaboration.
About the film
Fifty years after Richard Wesley's original production of Black Terror, Richard Lawson directs a bi-coastal cast of revolutionaries on a daunting mission to free their people. As the Black Comrades Keusi, M'Balia, Geronimo, and Ahmed fight on the edge of life and death, the divide between them intensifies and widens. This collaboration between Wesley, Lawson's Waco Theater Center, and Newark Symphony Hall combines theater and film as it weaves together the pulse of liberation struggles both past and present. It calls upon audiences to ask: What does it truly mean to be for the people?